LIVE PREVIEW
DOWNLOAD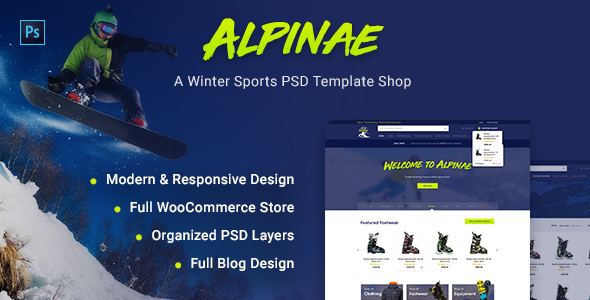 Alpinae is a new modern Photoshop template that's perfect for winter sports shops but with its customisability then it can be suited to any sports shop.
The PSD template comes fully labelled and layers grouped to ease of use and to reduce file size, you can find an example of the group and layer structure within the HTML document in our documentation. As with any PSD, the customization is unlimited and totally up to you.
As always our support is here around the clock and we will fix any issues you have or answer any questions you have to ask.
We will also be releasing a WordPress & HTML version of this theme soon!
Included in the package:
01_Homepage.psd
02_Homepage_2.psd
03_About.psd
04_FAQ.psd
05_Delivery & Returns.psd
06_Gift_Cards.psd
07_404.psd
08_Blog_List-Left Sidebar.psd
09_Blog_List-Right Sidebar.psd
10_Blog_Post.psd
11_Store.psd
12_Store_List.psd
13_Category_FullWidth.psd
14_Category.psd
15_Product_Page_2.psd
16_Product_Page.psd
17_Brands.psd
In this PSD template we have used Third Rail demo font and Roboto.
Third Rail is a free font using the demo version and Roboto is a Google Fonts font that can be downloaded for free.
The images shown in the preview have been downloaded using Shutterstock license.
These images aren't included in the final PSD template.