LIVE PREVIEW
DOWNLOAD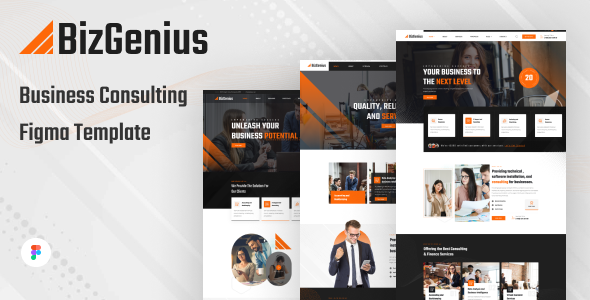 BizGenius is a cutting-edge and polished Consulting Business FigmaTemplate, carefully crafted to cater to a wide range of business needs, including Corporate Business, Consulting Business, Financial, Marketing Business, and more. With its modern design and seamless functionality, BizGenius is the ideal choice for creating a professional online presence.
Figma Files
Pages List
01_Home
02_Home
03_Home
04_About
05_Team
06_Testimonial
07_Services
08_Services_2
09_Services_details
10_Portfolio_Grid
10_project_details
11_Service_Details
12_Blog_grid
13_Blog_Details
14_Contact
15_404

Icons Used

Image Credits

BizGenius empowers you to create an impactful online presence for your consulting business without the hassle of intricate coding. Whether you're an established firm or a budding entrepreneur, BizGenius has the tools and flexibility to elevate your online reach.

Unleash the potential of BizGenius and take your consulting business to new heights. Get started today!