LIVE PREVIEW
DOWNLOAD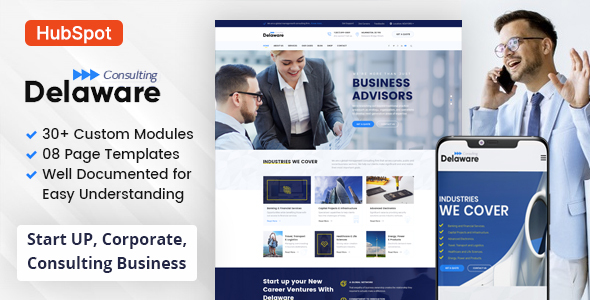 New Theme! Nest – Grocery Store WooCommerce WordPress Theme
Our Best Selling! Creote – Consulting Business & Finance WordPress Theme
This item is HUBSpot Theme. For WordPress Version Click here.
Delaware is a corporate HubSpot theme dedicated to startups, consultancy businesses and companies operating in the finance, legal, accounting or insurance industries. It offers everything you need to build an online profile for your business including portfolio pages, service page, service detail, blog page, blog details, etc.
Click to View online documentation HERE
List of Page Templates Included
08 page templates

Home
Contact
About Us
Our Case 01
Our Case 02
Our Case Single
Service
Service Single

Blog

Blog Post
Blog Listing

System Pages

Delaware – 404 error.
Delaware – 500 error.
Delaware – Search results template.
Delaware – Password prompt template
Delaware – Subscription-preferences template.
Delaware – Subscriptions-confirmation template.
Delaware – Email backup unsubscribe.
Delaware – Membership Login.
Delaware – Membership Register.
List of modules Used:
About Us type One
About Us type two
Adds
Analysis
Banner
Call Back
Contact Address
Contact Form One
Contact Form Two
Counter
Custom Image
Download Brochures
List Items
Navigation
News Type One
Our Cases Type One
Our Cases Type Two
Page Header
Process
Progress Bar
Quote Box
Service Plans
Service Type one
Service Type Two
Service Type Three
Social Media
Tab Type One
Tab Type Two
Testimonial
Title
Video Image
Delaware – Startup, Consulting Business HubSpot Theme