LIVE PREVIEW
DOWNLOAD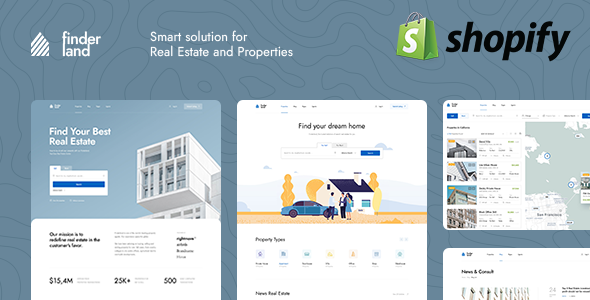 Finderland | Real Estate Sale and Rental Shopify Theme is a responsive and creatively designed Shopify theme tailored to cater to various aspects of the real estate industry. It serves as an ideal choice for those engaged in property sale, property agency, property management, property expertise, luxury real estate agencies, real estate companies, small and medium-sized real estate agencies, individual real estate agents, real estate businesses, house agencies, real estate portals, and all other businesses and services related to the real estate sector.
Nowadays, the real estate market, especially the sale of apartments, stands out as one of the most lucrative businesses and a sound investment for capital. Whether it's purchasing or selling an apartment, individuals often turn to real estate agents to secure comprehensive consulting and information services. Additionally, an increasing number of people initiate their real estate searches on the Internet.
Benefiting your precious products, we present a premium-quality website through our beautifully designed theme. This theme not only enhances the visual appeal but also significantly contributes to your e-commerce store's improved search engine rankings and heightened conversion rates.
Our Shopify Theme is exceptionally optimized, featuring HTML5, CSS3, and Sass CSS coding for peak performance. Employing advanced search engine optimization and speed optimization techniques, it guarantees top-notch results. Furthermore, it's fully mobile-responsive and compatible across various browsers, ensuring flawless functionality on screens of all sizes.
With our user-friendly Drag & Drop Shopify Builder, you have the freedom to arrange sections at your discretion, allowing your creative vision to take center stage. Unleash your imagination without constraints!
Recognizing that aesthetics alone are not sufficient for a successful shop, we prioritize SEO optimization. It's not just about beauty; a theme with valid and optimized code aligns with the best SEO practices, ensuring your shop's success.
Support
First of all, Thanks so much for purchased our items. We were really appreciated it and hope you enjoy it! If you need support, all support will be conducted through our support system ( https://nouthemes.ticksy.com ). We usually get back to you within 24 – 48 hours. (except holiday seasons which might take longer).