LIVE PREVIEW
DOWNLOAD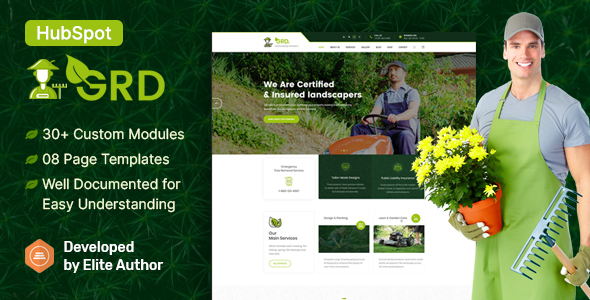 New Theme! Nest – Grocery Store WooCommerce WordPress Theme
Our Best Selling! Creote – Consulting Business & Finance WordPress Theme
This item is HUBSpot Theme. For WordPress Version Click here.
GRD is the best HubSpot Theme specifically made for some sectors like Landscaping Companies, Lawn Services 0Business, Groundskeepers, Landscape Architects, Gardeners, Florists, Agriculture and companies that offer related services. Not only for big sectors you can also use GRD for your startup
It offers everything you need to build an online profile for your business including gallery pages, gallery details, service page, service detail, our team, blog page, blog details, contact us, etc.
Click to View online documentation HERE
List of Page Templates Included
08 page templates

Home
Contact
About Us
Gallery
Gallery Single
Service
Service Single
Our Team

Blog

Blog Post
Blog Listing

System Pages

Grd – 404 error.
Grd – 500 error.
Grd – Search results template.
Grd – Password prompt template
Grd – Subscription-preferences template.
Grd – Subscriptions-confirmation template.
Grd – Email backup unsubscribe.
Grd – Membership Login.
Grd – Membership Register.
Grd – Password Prompt
Grd – Search Results
List of modules Used:
Slider One
Brand Carousel
Contact Box One
Contact Box Two
Contact Form One
Counter
SimpleImage
Image Box One
Image Box Two
List Item One
List Item Two
Menu item
News Type One
Our Team Type One
Page Header
Service Two
Project Information
Service Carousel
Service Grid
Testimonial One
Service Listing
Theme Button
History Time line
Title
Awards
Brochures
Customer Help One
Quick Contact
Simple Image Carouse
Why Choose Us
WorK Process