LIVE PREVIEW
DOWNLOAD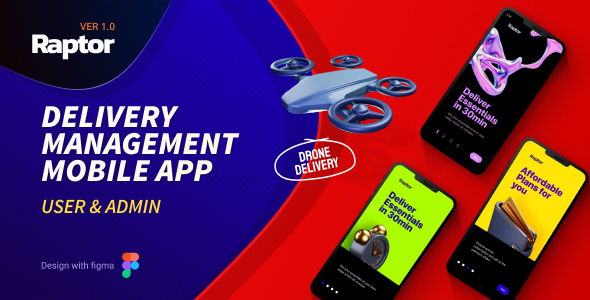 Raptor | Drone Delivery Management Service Mobile App For Client and User End
Raptor is an exclusive mobile app designed for delivery management service for conventional and drone delivery services. It has a modern, clean, creative & unique design based on the latest technology. This web app & website UI template consists of 15 attractive screens & pages respectively. All symbols and objects are vector-based and easily editable. It's easy to use and navigate as well.
For whom: 
Raptor is an exclusive mobile app designed for delivery management service for conventional and drone delivery services.
Technical Description:
All the designs are made with precise details. With components and assets, you can design your one page easily and effectively. All the text is editable to understand and recreate any of the design. It's very straightforward to change colours or size of any component or layer and make this template an asset for a variety of projects. This Mobile UI Template is completely made with the Figma application.
Software:
Figma. You need to have a basic knowledge about Figma
Note, Special Mention:
All the images are displayed only, not included in the main download package. But I must want to give credit to the authors for their wonderful images.
Special Graphics Made by us:
As per ThemeForest guidelines we can not include images in the final package. But we can provide you with these separately. After purchase, you can ask for the same, but that will include only free images.
Specifications:
Software: Figma
Google material design
Components used
Easy to understand layouts
Well organized guides
45 Mobile Screens for Admin and User
100% Scalable Vectors
Symbol & Layer organized.
Easy Customisable Figma file.
Free Google fonts
Full beautiful SVG icon Pack
Well-documented Help file
Includes: Mobile Screen design for management and user
General Screens:
Onboarding-General: 6 Screens
Onboarding-Medicine: 4 Screens
Onboarding-Food Delivery: 4 Screens
Admin/Mangement/App/Dashboard:
Home/medicine/list
Home/medicine/grid
Home/food/list
Home/food/grid
Home/Grocery/list
Home/Grocery/grid
Service/selection/dropdown
Filter/selection/dropdown
Delivery/satus/step-01
Delivery/satus/step-02
Delivery/satus/step-03
Delivery/satus/step-04
Drone/status/map
Drone/status/live-view
Order/details/page-01
Order/details/page-02
Status bar/delivery
Status bar/delivery-02
Status bar/statistic
Status bar/search
Status bar/Account
Status bar/Menu
Customer App:
Customer/app/medicine/home
Customer/app/grocery/home
Customer/app/emergency-goods/home
Customer/app/food/home
Customer/app/product-details
Cart-page-01
Cart-Shipping-address
Cart-Delivery-Options
Cart-order-summery
Cart-Payment
Font
Roboto: https://fonts.google.com/specimen/Roboto
Images Courtesy
Unsplash: https://unsplash.com/
Freepik: https://freepik.com/
To get more information or technical support kindly reach us.
http://support.0effortthemes.com/