LIVE PREVIEW
DOWNLOAD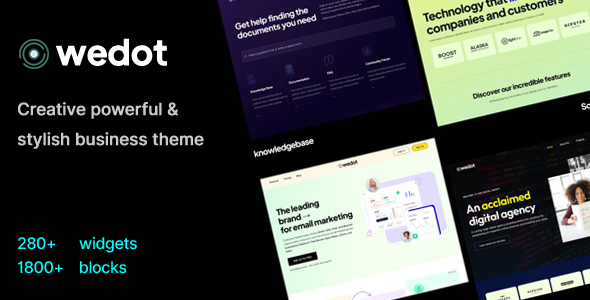 WeDot new version 1.1 – 20th July 2023 – view changelog
WordPress 6.2.X Ready.

Compatible With WooCommerce Version 7.8.X

Update the WeDot theme effortlessly with just 1-Click using Envato Market Plugin
Fully RTL supported

Fully WPML Compatible

Child theme included
WeDot is not just any ordinary WordPress theme. It's a top-notch website with professional, clean, and modern designs that cater to various needs. Whether you're a creative individual, a corporate leader, a lawyer, a small business owner, or a shopkeeper, if you're searching for a contemporary website, Wedot is your best choice.
What can you create using the WeDot WordPress theme?
With the WeDot WordPress theme, you have endless possibilities and no limitations. You can create a wide range of websites from Business to Online Shops, or any other type of website you can envision.
Begin your journey with a simple one-click installation
The WeDot theme offers a remarkable assortment of demo templates and a comprehensive block library. With our convenient one-click demo installation, you can have your brand new website up and running within minutes.
Theme core feature
Fully responsive.
Multi Language.
Elementor page builder.
300+ ready pages.
250+ Premium Elements.
One click demo importer.
Super clean design.
WooCommerce Ready.
WPML Ready.
Polylang Ready.
Google fonts support.
Unlimited Colors & Unlimited Possibilities.
SEO ready.
Custom 404 pages.
Developer friendly.
Sidebar manager.
Theme options panel
A key component found in numerous popular WordPress themes is a robust theme options panel. It serves as an excellent means to incorporate customization options that can be easily managed and understood by non-developers. The WeDot theme goes above and beyond by offering a plethora of customization options for nearly every aspect of your website. Here are some of its noteworthy features:
Logo: Easily modify the site logo across your entire website.
Layout: Take control of your website's layout, whether you prefer a boxed or wide view. You can also manage the container width for different browser window sizes. Additionally, you have the option to display the top header, header, body, and footer in full width.
Colors: Simplify the process of managing your website's color scheme with this section. It allows you to control the overall site colors, standard anchor tag color, custom anchor tag colors, meta text color, and tag cloud color. Moreover, you have the flexibility to globally adjust the color and design of buttons, saving you valuable time and effort.
Typography: Effortlessly alter the fonts used across your entire website with a single action. Select from a wide array of exceptional Google Fonts and effortlessly link them to all typography elements within the Theme Options. This integration seamlessly integrates with the Elementor Design System, providing you with a comprehensive typography solution for your website.
Live Search: Experience the convenience of instantly finding any desired feature with our intelligent live search functionality. Simply search for a specific feature, and smart results will be displayed instantly. Clicking on a result will promptly take you to the corresponding setting, ensuring a seamless and efficient navigation experience.
Header: Define your main header effortlessly by selecting from our pre-defined layouts. Alternatively, unleash your creativity and craft a unique header design using our dedicated header builder section. With this flexible tool, you can precisely choose where to display your custom header design, providing full control over the appearance of your website's header.
Footer: Unleash your creativity and design a distinctive footer by effortlessly controlling the columns through theme options. Customize each column by utilizing the widget area and designing it according to your preferences. Moreover, our footer builder section allows you to create a unique header design and choose precisely where to display it, providing complete control over the appearance of your website's footer.
Boxed & Wide layouts
WeDot provides a global setting that allows you to transform your website from the default wide display to a boxed setup. In this boxed layout, you have the freedom to set a background image or color to be displayed behind the boxed container, adding a personalized touch to your website's design.
Customize Your Page, Portfolio, and Services with Advanced Options
Header Style Control: Enjoy the flexibility of the header style control settings, allowing you to define the appearance of your navigation bar. Whether you prefer a transparent or colorful background, you can easily customize it. Additional options such as 'flip logo', 'Navigation font color', 'header background color', and 'Header bar border bottom color' provide further customization possibilities.
Page Title Bar Configuration: Activate the default 'page title bar' globally by enabling this feature in the theme options panel. Take advantage of various settings to modify the default configuration. Add or remove elements such as the 'search box', adjust 'page title bar padding' and 'Responsive padding', enable or disable the title and breadcrumb, and even add custom titles or subtitles to suit your specific needs.
Powerful Portfolio and Services Section
With WeDot, you can take advantage of the built-in portfolio and services sections. Showcasing your portfolio becomes effortless, allowing you to highlight your work and impress your audience. Additionally, you can display and highlight the various services you offer, eliminating the need for third-party plugins. Experience the convenience and flexibility of creating an awesome-looking portfolio and services section directly within the WeDot theme.
250+ Elementor Design Elements
360° Product Viewer
3D Text
Accordion
AdBlock Detector
Advanced Button
Advanced Calculator
Advanced Counter
Advanced Divider
Advanced Google Map
Advanced Heading
Advanced Icon Box
Advanced Image Gallery
Advanced Progress Bar
Age Gate
Air Pollution
Animated Card
Animated Gradient BG
Animated Heading
Animated Link
Audio Player
Backdrop Filter
Background Expand
Background Overlay
Background Parallax
Barcode
BbPress
BbPress Forum Form
BbPress Forum Index
BbPress Reply Form
BbPress Stats
BbPress Topic Form
BbPress Topic Tags
Booked Calendar
Brand Carousel
Brand Grid
Breadcrumbs
BuddyPress Friends
BuddyPress Group
BuddyPress Member
Business Hours
Caldera Form
Calendly
Call Out
Changelog
Charitable Campaigns
Charitable Donation Form
Charitable Donations
Charitable Donors
Charitable Login
Charitable file
Charitable Registration
Charitable Stat
Charts
Circle Info
Circle Menu
Comment
Comparison List
Confetti Effects
Contact Form 7
Content protector
Content Switcher
Cookie Consent
Countdown Timer
Coupon Code
Creative Button
Crypto Currency Card
Crypto Currency Carousel
Crypto Currency Chart
Crypto Currency Chart Carousel
Crypto Currency Grid
Crypto Currency List
Crypto Currency Table
Crypto Currency Ticker
Cursor Effects
Custom Carousel
Custom Gallery
Dark Mode
Device Slider
Download Monitor
Dropbar
Dual Button
Dynamic Carousel
Dynamic Grid
Easy Digital Downloads Mini Cart
Easy Digital Downloads duct Reviews
Easy Digital Downloads duct Reviews Carousel
EDD Cart
EDD Category Carousel
EDD Category Grid
EDD Checkout
EDD Downloads
EDD History
EDD Login
EDD Portfolio Editor
EDD Product
EDD Product Carousel
EDD Purchase History
EDD Register
EDD Tabs
Equal Height
Event Calendar Countdown
Event Carousel
Event Grid
Event List
Everest Form
Facebook Feed Carousel
Facebook Feed Grid
Fancy Card
Fancy Icon
Fancy List
Fancy Slider
Fancy Tabs
FAQ / Accordion / Spoiler
Featured Box
Flip / 3D / Animated Box
Floating Effects
Floating Knowledgebase
Fluent Form
Formidable Forms
Forminator Form
Give Donation History
Give Donor Wall
Give Form
Give Form Grid
Give Goal
Give Login
Give file Editor
Give Receipt
Give Register
Give Totals
Google Document Viewer
Google Reviews
Gravity Forms
Grid Line
Hash Link
Help Desk
Honeycombs
Horizontal Scroller
Hover Box
Hover Video
Icon Mobile Menu
Icon Nav
Iframe
Image Accordion
Image Compare
Image Expand
Image Magnifier
Image Parallax
Image Stack
Instagram
Instagram Feed
Interactive Card
Interactive Tabs
Layer Slider
LearnPress Carousel
LearnPress Grid
Lightbox / Modal Box
Logo Carousel
Logo Grid
Lottie Icon Box
Lottie Image
Mailchimp
Mailchimp For WordPress
Marker/Image Hotspot
Marquee
Mega Menu
Member
Modal
Navbar
News Ticker / Post Ticker
Ninja Forms
Notation
Notification
Offcanvas / Sidebar
Open Street Map
Panel Slider
Parallax Effects
Particles
Portfolio Carousel
Portfolio Gallery / Grid
Portfolio List
Post / Blog Carousel
Post Block
Post Block Modern
Post Card
Post Gallery
Post Grid
Post Grid Tab
Post List
Post Slider
Pricing List
Pricing Table
Product Carousel
Product Grid
Profile Card
Progress Pie
Protected Content
QR Code
QuForm
Reading Progress
Realistic Image Shadow
Remote Arrows
Remote Fraction
Remote Pagination
Remote Thumbs
Reveal Effects
Review Card
Review Card Carousel
Review Card Grid
Revolution Slider
Right Click Context Menu
Scroll Box
Scroll Button
Scroll Image
Scrollnav
Search
Section Sticky
Simple Contact Form
Single Post
Slider
Slideshow
Slinky Vertical Menu
Social Proof
Social Share
Sound Effects
Source Code
Static Carousel
Static Grid Tab
Step Flow / Process Step
Sub Menu
SVG Blob
SVG Image
SVG Maps
Switcher / Toggle
Table
Table Of Content
TablePress
Tabs
Tag Cloud
Testimonial Carousel
Testimonial Grid
Testimonial Slider
The Newsletter
Thumb Gallery
Tile Scroll
Timeline
Timezone
Toggle
Tooltip
Total Count
Trailer Box
Transform Effects
Tutor LMS Course Carousel
Tutor LMS Course Grid
Twitter Carousel
Twitter Grid
Twitter Slider
User Login
User Register
Vertical Menu
Video Gallery / Playlist
Video Player
Visibility Controls
Weather
WeForm
WooCommerce Add To Cart
WooCommerce Carousel
WooCommerce Cart Page
WooCommerce Categories
WooCommerce Checkout Page
WooCommerce Mini Cart
WooCommerce Products
WooCommerce Slider
WooCommerce Tracking Form
WP Forms
Wrapper Link
weDocs – Knowledgebase and Documentation Plugin for WordPress
WeDot fully supports the design integration for the 'weDocs – Knowledgebase and Documentation Plugin for WordPress'. With this plugin, you can effortlessly create visually appealing and comprehensive documentation for your products. Organize your product documentation beautifully within your website, providing users with easy access to valuable information and enhancing their overall experience.
bbPress Support
WeDot seamlessly integrates with the bbPress plugin, providing full compatibility for creating functional and engaging forums. Utilize the unique and eye-catching designs offered by WeDot to build a forum that stands out and captures the attention of your users. Enjoy the combination of powerful forum functionality and visually appealing designs to foster vibrant discussions and community interactions on your website.
Extended WooCommerce Integration
Experience the power of full eCommerce support with seamless integration of the leading WordPress WooCommerce plugin. The WeDot theme provides a comprehensive suite of eCommerce capabilities, enabling you to effortlessly create a highly professional and fully functional online shop. Unleash your entrepreneurial potential and embark on a successful online business journey with ease.
Performance and SEO Optimized
Fast Loading: The WeDot theme is expertly optimized to deliver exceptional website speed without compromising any of its impressive features. You can expect swift loading times that ensure a seamless user experience for your visitors.
SEO Optimized: WeDot theme incorporates the latest SEO best practices to enhance the visibility of your website on search engines. By leveraging these optimization techniques, your website can achieve better rankings, attract more organic traffic, and improve its overall online presence.
WPML and Polylang Ready
The WeDot theme provides support for both WPML (paid) and Polylang (free) plugins, enabling you to effortlessly translate your website into multiple languages. This feature empowers you to reach and engage with a global audience, ensuring that your content can be accessed and understood by users from different linguistic backgrounds.
Mobile Friendly
Fully responsive ready-made layouts
Responsive controls in Elementor and Theme Options
Turn on/off individual elements on mobile/tablet/desktop
Multisite Tested
The WeDot theme has undergone extensive testing across multisite setups, including our own demo installations. This rigorous testing ensures that the theme functions seamlessly across your network, providing a reliable and consistent experience. You can have peace of mind knowing that everything will work as intended on your multisite network.
Child Theme Ready
Easily create your own child theme by starting with the included dummy child theme. This provides a convenient starting point for customizing and extending the WeDot theme according to your specific needs and preferences.
Seamless Browser Compatibility
WeDot WordPress theme ensures that no browser is left behind. It is fully compatible with all modern and widely used browsers, including:
Google Chrome
Firefox
Safari
Opera
Microsoft Edge
Internet Explorer 11
You can be confident that your website will look and function seamlessly across these browsers, providing a consistent experience for all visitors.
One-Time Purchase, Lifetime Free Updates!
With the purchase of the WeDot theme, you gain access to free lifetime updates and receive premium support for a duration of 6 months. This ensures that you can enjoy the latest enhancements and features while receiving dedicated assistance from our support team during the initial months of your usage.
UPDATES

1.1 -  20th July 2023
- [UPDATE 1] Introducing the new site demo, 'Digital Payments.'


1.0 
- First Release