LIVE PREVIEW
DOWNLOAD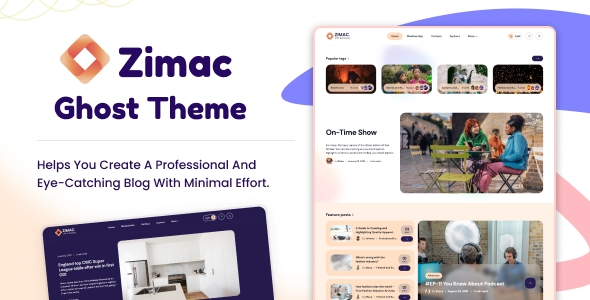 Zimac Ghost theme helps create a professional and eye-catching blog with minimal effort.
The Zimac Ghost theme is the perfect choice for bloggers and magazine websites. With its unique design, you can make your content stand out from the competition. The theme is easy to set up and customize, so you can get your blog or magazine online in no time.
One of the standout features of the Zimac theme is its support for dark-mode reading. This is great for users who prefer to read in low-light environments, as it reduces strain on the eyes. The theme is also compatible with Ghost 5X, ensuring that it works seamlessly with the latest version of the platform.
The Zimac Ghost theme also supports social sharing on popular platforms such as Facebook, Pinterest, LinkedIn, and Twitter. This makes it easy for your readers to share your content with their own followers, potentially bringing in new readers to your site.
Overall, the Zimac Ghost theme is an excellent choice for anyone looking to create a professional and stylish blog or magazine website. We encourage you to give it a try and see for yourself how it can enhance your online presence.
Create a visually stunning blog or newsletter with a wonderful Zimac's design now!